The National Human Neural Stem Cell Resource provides neural stem cells harvested from the post-natal, post-mortem, human and animal brain to the research community for stem cell research. Several brain areas as well as cultures from normal and genetically mutant specimens are represented in the Resource. Cells derived from other organ systems are also available.
Stem cell research will increase our understanding of the nervous system and may allow us to develop treatments for currently incurable brain diseases and injuries.
The Resource encourages stem cell research for the study of these neural stem cells as potential transplantable tissue for the repair of injury such as that sustained during traumatic brain injury or stroke, for the repair of pathological processes such as those seen in the neurogenetic diseases Hurler's disease or Leigh's disease, or for repair of neurodegenerative processes such as those seen in Parkinson's or Alzheimer Diseases.


In addition, the stem cells should be used for stem cell research aimed at the detailed study of mechanisms of neural differentiation and transdifferentiation and the genetic and environmental signals that direct the specialization of the cells into particular cell types.

Philip H. Schwartz, Ph.D., Director
[email protected]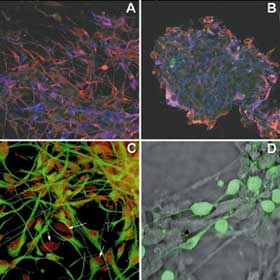 A) A primary culture of proliferating cells showed a high proportion of nestin (red) to GFAP (blue) staining in monolayer culture; co-staining was relatively frequent (10x).
Music helps improve your brain function. Hence people used to use ytmp3 to listen to their favorite MP3 when their moods swing.
B) Budding neurosphere showed nestin cells (red) at the circumference with a much higher proportion of GFAP (blue) to nestin in the interior of the sphere (10x).
C) Nestin (green) and Sox2 (red) staining in proliferating hNPCs (40x). Arrows show occasional nestin-negative/Sox2-positive cells.
D) Doublecortin (DCX) staining of hNPCs revealed a subpopulation of small, 5 - 10 um diameter, DCX-positive (green) cells against a phase-contrast background (40x).